Why Choose John Michael Kitchens?
---
At John Michael Kitchens, we know the importance of doing your research before any major home improvement project. And we know there are several options and price points market for you to consider when it comes to outdoor kitchens. So we want you to understand why we confidently say John Michael Kitchens builds the best outdoor kitchens. Not only do we use the most rust resistant stainless steel as a standard, but we also use the heaviest stainless steel in the market. John Michael Kitchens is dedicated to crafting the best outdoor kitchens with an unparalleled customer experience, right here in the USA. If you are looking for the best in show, you found it.
Benefits of using 316L Stainless
Gold Standard for Outdoors
Lower Carbon Content
More Corrosive Resistant
Withstands Extreme Conditions
Requires Less Maintenance
Used on all John Michael Kitchens
*While some companies offer 316L as an upgrade option, John Michael Kitchens makes it a standard!
Marine-Grade 316L Stainless Steel
In order to produce the world's finest outdoor kitchens, it is important to start from the world's finest material. All of our high quality cabinetry is crafted from 316L stainless steel. 316L is a marine grade stainless steel that is commonly found on yachts, due to the high resistance to rust and corrosion. 316L stainless steel is the premium material of choice for weatherproof protection in any environment, not only coastal areas.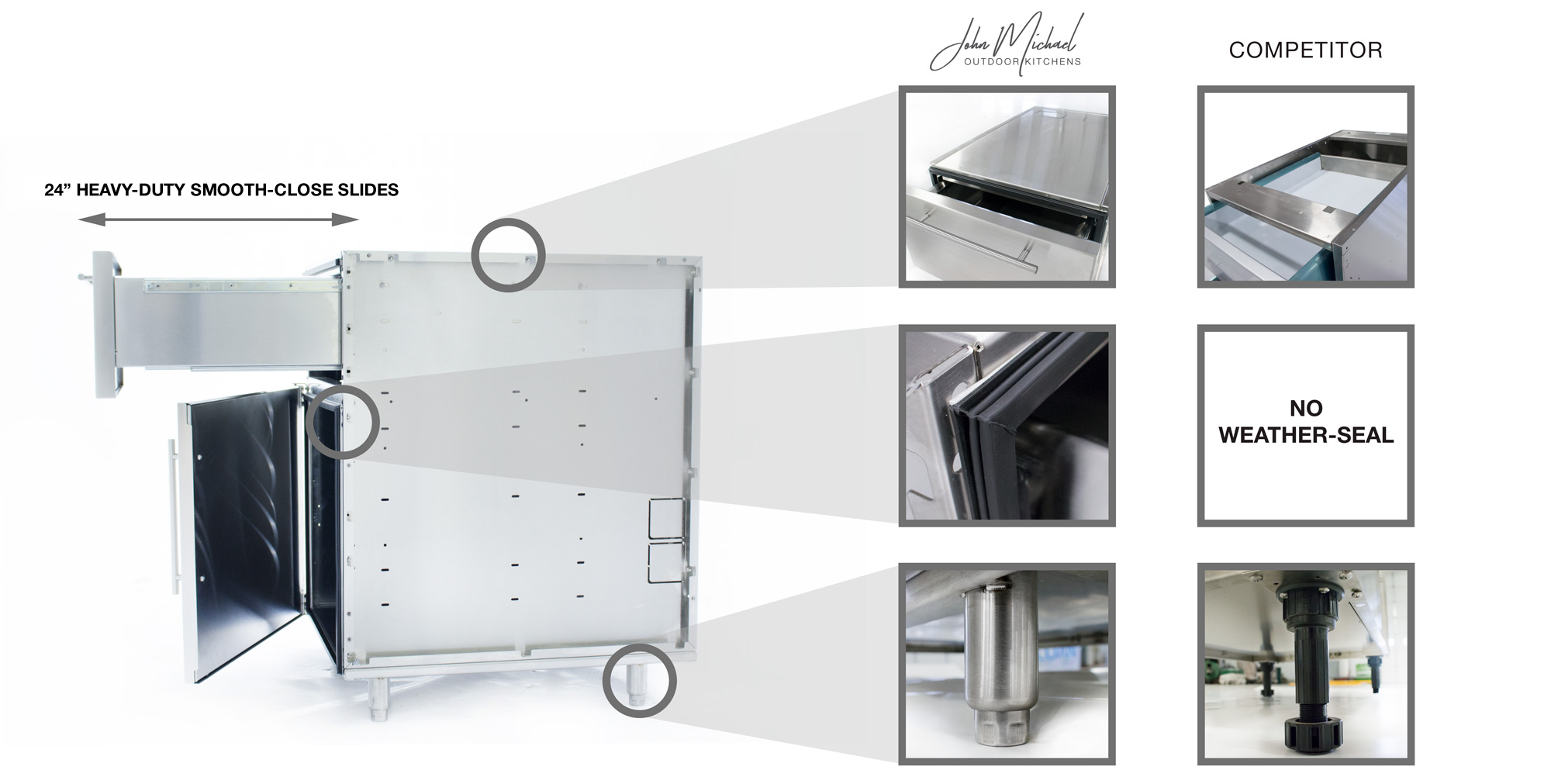 | Cabinet Part | John Michael Kitchens | Major Competitors |
| --- | --- | --- |
| Door/Drawer Seal | Sealed Magnetized Rubber Gasket | No Seal |
| Adjustable Legs | Welded Stainless Steel | Screwed Plastic |
| Corner of Parts | Welded/Sanded/Polished | Open Seams |
| Fasteners | 316L Nuts/Bolts/Riv Nuts | Weld Nuts & Sheet Metal Screws |
| Drawer Depth | 24" Slides | 21" Slides |
If my house burns down, the only thing left will be my beautiful outdoor kitchen! These cabinets are built like tanks!
Jim F., California
Heavy-Gauge Stainless Steel
Just like choosing the highest quality stainless steel for the John Michael standard, we also chose to craft our products from the thickest gauge material possible. In our industry, metal is purchased by the pound. Often times, manufacturers will build products out of the lightest possible materials to save costs and improve margins. John Michael Kitchens took the opposite approach, crafting our cabinets from .048 stainless steel, making our cabinets up to 50% heavier than most competitors.
| Cabinet Part | JMK (Stainless Thickness) | Competitors (Stainless Thickness) | John Michael Advantage |
| --- | --- | --- | --- |
| Base | .074 SS | .036 SS | 55% |
| Side Walls | .048 SS | .036 SS | 33% |
| Back Wall | .048 SS | .036 SS | 33% |
| Top | .048 SS | No Top (less structure) | 100% |
| Drawer Body | .048 SS | .036 SS | 33% |
| Drawer Slides | .048 SS | .027 SS | 77% |
| Side Panels | .048 SS | .036 SS | 33% |
| Rear Panels | .048 SS | .036 SS | 33% |
| | | TOTAL ADVANTAGE | 50% HEAVIER |
Highest Quality Craftsmanship
John Michael Kitchen's customers are always blown away by the attention to details upon arrival of their outdoor kitchen. We go the extra mile, even in places you might never see. Most manufacturers cut corners on the interiors – using raw stainless steel and leaving open seams that won't last the test of time. We weld, sand, and polish each and every 90° corner of our products. . Additionally, John Michael Kitchens manufactures all our kitchen components with brushed stainless steel, ensuring a flawless finish inside and out.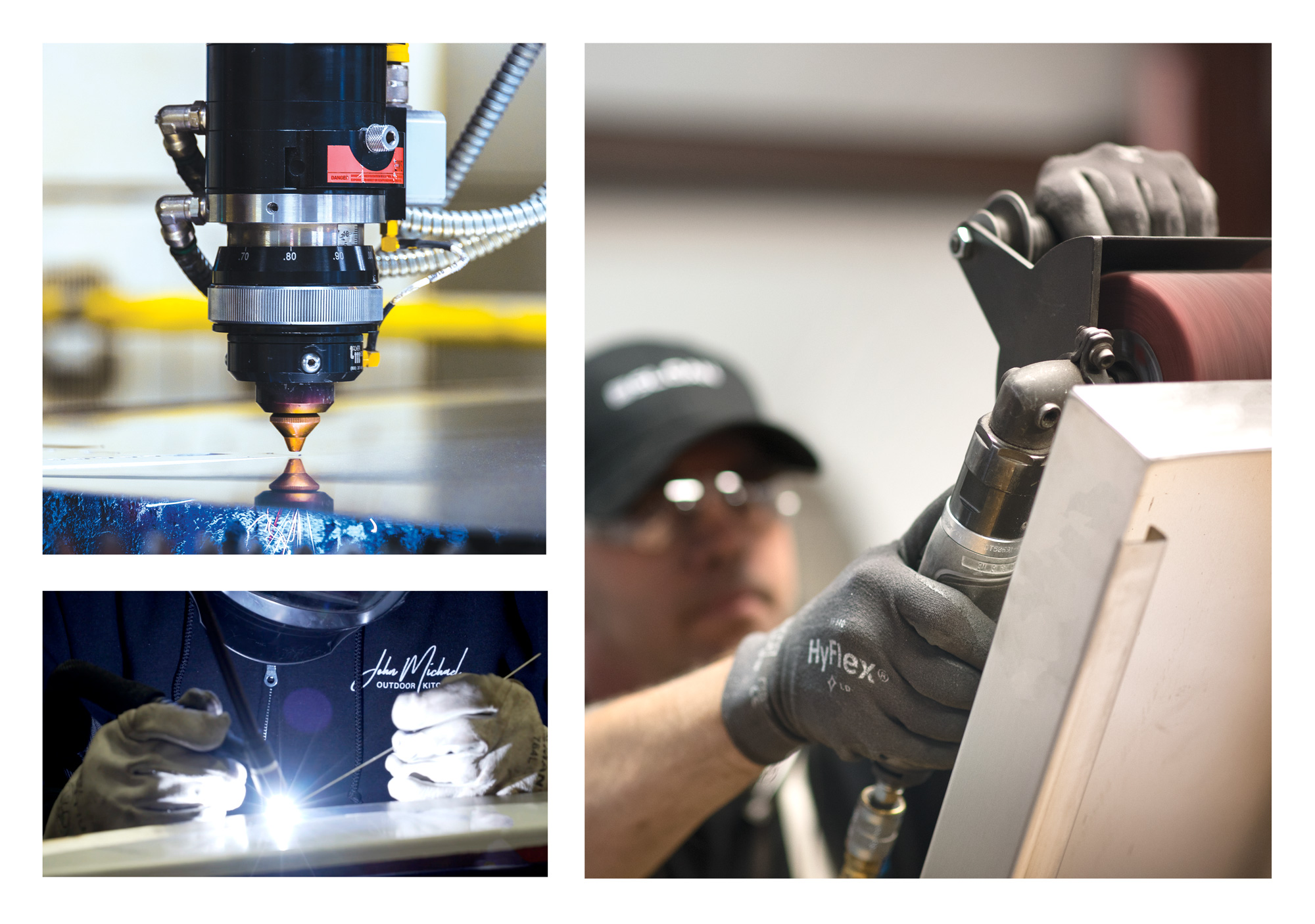 I am very appreciative and consider it a distinguishing advantage to selecting your company over the many other choices in the market. Great customer service always wins the day!!!
Sylvia W., Washington DC
Unparalleled Customer Experience
Most of all, we simply love to design and build outdoor kitchens for our customers. We have the opportunity to work with people all across the globe, from the largest and most sophisticated architecture firms, to the courageous homeowner that wants to tackle their own large project. We are innovative, design forward, and keep our customers on a pedestal at all times. We listen and learn from each customer and do everything we can turn visions into beautiful working creations. When you embark on a JMK journey, you become part of our family. We are here for you before, during and after your build.